https://cryingpersecutedpakistani.weebly.com/articles/crying-heart-voices-of-pakistani-christian
Nationalism or Racialism
Crying heart voices of Pakistani Christian
It is voices of crying hearts of Pakistani Christian and those families who are affected by today terrorist attack on Sunday Church meeting in Quetta. Brutal extremists continued terrorist attacks. It is not only serial killing of Christian in Pakistan but also genocide of Christianity in Pakistan. Extremists are forcing Christian to leave Pakistan or to be converted. It is tragedy with Pakistani Government; they could not solve the matter of Christian and other minorities after 70 years.
​
It is not only attack on Pakistani Christian church but also all churches Christian leadership and Christian communities to terrorize the feeling of Christian on the occasion of Christmas to stop Church meeting and Christmas celebration. If they want to celebrate Christmas but they might not come to churches for celebrating Christmas. It is not only terrorist attack on Pakistani Christian but also worldwide Christianity and slap on face of United Nations, Countries who are representatives of peace coalition for human rights. It is not terrorist attack on peace workers but also Christian NGOs and Harmony promoting organizations who professes that there is peace in Pakistan for minorities after seeing genocide of Christian according to history countless attacks on Christian festivals.
Even it is survey reports of NGOs; they are safe on high positions, what is safety, when every ministers get Asylum in other countries after finishing their turn of ruling in Pakistan. It had been strategic planning of ministers, what is going on in Pakistan. When leader will run away, what will nation do without leader? It is dead conscious leadership.   They had to get Asylum in other countries, if ministers had to get Asylum in other countries. How Christian and religious leaders are safe in Pakistan? There are so many question from Leadership of religion and political and social. Who are pretending that they are safe in helplessness as dead conscious.
It is not only satanic plan of elite class but also it is dead conscious of NGOs and leadership of Pakistan, if they are Christian or Muslim. 70 year is vital period of a Century. Dead conscious leaders say that nation takes time to be nation. Oh demonic possessed leaders, it was genocide of Christians without Law, policy and principles. How long you will fight for your personal fights for selfishness, ego, and supremacy as thugs of innocents' children, girls and women and human being for your craze of leaderships? You pretend to International communities that you are genuine because crowd follows.
You said that crowd is following you, they did not follow you but their own sinful desires or following objects, they are also corrupt like you?  When time comes, you sit meeting then leaders compromised with opposition for mutual benefits and ate rights of innocents for your selfish desires, self prominence. Innocent rights, peace and comfort had been still same in unrest and disturbance.  Remember, if human cannot do justice with innocent human. God will do justice with your leaderships, God will ask you for your leadership, why you have killed so many Christians for your personal selfishness by keeping your favorite leaders and followers.
You are countable for your crimes, biased system, prejudices, and injustice with fellow human being. How you had exploited innocent human for your leadership and funds? You said that all other faith is fake, all other are liars except you, you are practical and other are sleeping. Your supremacy can deprive innocent and simple hearted Christian leaders but God knows breath of human. When judgment day will come, you will be countable for your crimes. Because God is creator of all human not some sects, some religions or denominations, How long you deceive other and your own dead conscious under demonic affects? Where you did not consider human as human?  Worldly riches will be in this world, Your acts will be countable with God only. God has created all human on His image without discrimination and given them all rights to live as good human on the earth.
If you were genuine leaders, Then why majority of Christian had been genocide? Why Most of Pakistani Christian are helpless and hopeless in seeking Asylum in other countries. It is not only your selfishness but also brutality over innocent human being of Pakistani.
It is not only selfishness of Christian NGOs, Ministries and Ministers but also professors, teachers and High priests who think for themselves only but also international amnesty and international peace workers who works on the religious affairs, peace and interfaith harmony. It is not only selfishness of police but also security agencies who did not control terrorism over minorities in Pakistan especially on religious places and religious events.
These terroristic attacks on the churches  and on religious festivals are not only making Pakistan as notorious in the whole world but also it clears the mind of international communities that Pakistani cannot handle  terrorists and cannot rule Pakistan for all human being peacefully after creation of Pakistan
United Nations still ignores and rejects Pakistani Asylum seekers cases, It is not only selfishness of UN but also shows that UN staff is not high qualified according to Human rights but only to satisfy their agents and they cannot manage human rights for human after showing discriminatory attitude to Pakistani and after seeing genocide of Christian on every occasion of religious events in Pakistan. Being Pakistani had become image of extremists in the eyes of whole world, Every Pakistani had been standing separately on International Air ports due to being Pakistan. If they are terrorist or not?  It had been proved that Pakistan is under – ground colony of extremists.
Again, it is terrible terrifying terrorist attack on Christian feeling to hurt them on the special occasion of Christmas. It is most hurting for Pakistani Christian and international Christian communities all over world to see pathetic condition of Christian in Pakistan. It is not only injustice Governments socially, economically and religiously but also it is injustice of Christian ministers who could not get protection and rights to live and rights to practice faith in Christ safely, they had been failed but still had been seated in Assembly as failure for security of Christian children, girls, women and churches and Rights. It had been proved that they are for affairs of Christian but they are only in assemblies for parties and purposes and personal benefits.
ATTACK ON A CHURCH IN QUETTA – PAKISTAN is living evidence for United Nations who did not consider Pakistani Christian Issues in Pakistan even they refused Pakistani Asylum seekers, they are safe in Pakistan. There is long list of terrorist attack on Churches in the History of last 70 Years.
Today's attack is a slap on the face of all those who say that Pakistan has religious freedom and Christians are equal citizens with majority. I have always been trying to want the world attention to the genocide of Christians happening in Pakistan but the persecution of Christians  was not being accepted  and considered by anyone in the United Nations or in the governments of Western Countries. I appreciate President Donald Trump for taking a bold step regarding human being,  this kind of leaders can take action for humanity only. But who are compromised for mutual benefits, they can not take action for Humanity.
I pray that God bring any Leader in Pakistan like Donald Trump who takes action for His country without discrimination. May God Pakistan soon for suffering and persecuted human being. May God bless these leaders to repent and be human for fellow human. May God bless all citizen who are suffering under biased and party system, May God create Nationalism spirit among all religions and faiths.  May God bless all Pakistani who are coming to Pakistan on the occasion of Christmas and going out from Pakistan safely. May God encourage Pakistani Christian to feel safe and blessed in Pakistan? I ask in mighty name of Jesus Christ. Amen
Please help in your prayer and what you can affordable for you to bless Pakistani Christian to celebrate Christmas
https://www.gofundme.com/Christmas-for-persecuted-families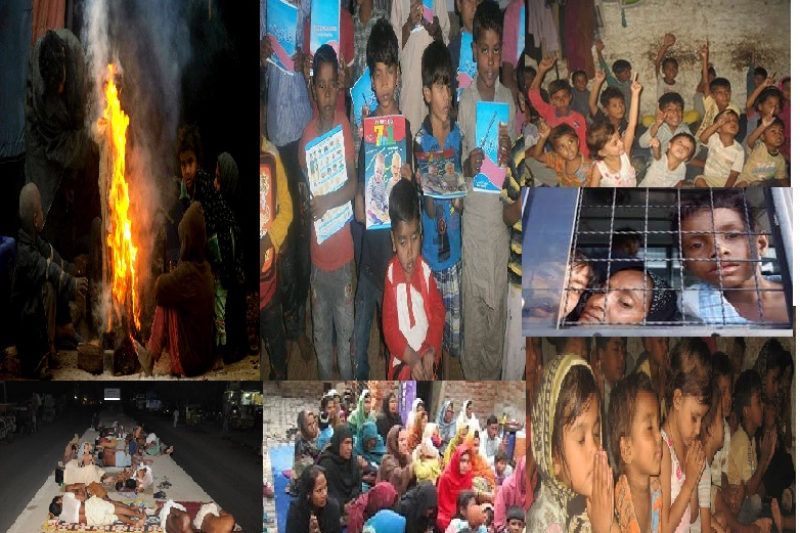 Written by Bishop Dr. Farhad S. Bhatti